Getting Started | The Tools | Pendant Creation | Finished Pendant | Sculpture Creation | Finished Sculpture
When I moved to a larger scale object I ran into more tool limitations. While I CAN do objects of this size with the tools I have it would be a lot faster and easier if I could have the bits available with 14″ & 18″ shanks. Until I get those, this is pretty much the limit of size for me.
Here is the beginning piece of rough. It's Nephrite Jade from Wyoming. I did not need to slab this as it was formed in a seam and so was already naturally 'slabbed'.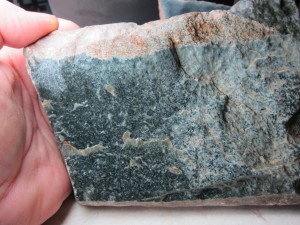 I followed the same process and you saw on my pendant creation page. However as I finished this piece I realized how sweet it was to hold. So I ground out a nice concave surface on the back to help accommodate that.
Here you can see my preform along with my initial sketch.
After this I just kept refining until I was ready for the final polish.  Click below on Finished Sculpture to continue.
Getting Started | The Tools | Pendant Creation | Finished Pendant | Sculpture Creation | Finished Sculpture