Getting Started | The Tools | Pendant Creation | Finished Pendant | Sculpture Creation | Finished Sculpture

I started with a slab of Wyoming Nephrite Jade and a black opal from Lightning Ridge, Australia.  I'd cut this opal a long time ago but at that point I didn't have the setting skills required to use it.  I recognized this as a very special stone so I tucked it away for later use.
Here's the initial layout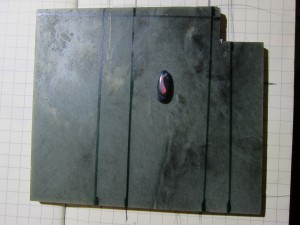 Here you see the pre-cut along side the planning sketch.
And here is the initial preform.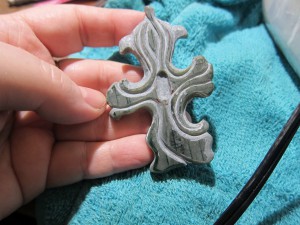 After this I proceed with the final revisions and grinding.  Click below on Finished Pendant to continue.
Getting Started | The Tools | Pendant Creation | Finished Pendant | Sculpture Creation | Finished Sculpture