$375 |
Getting Started | The Tools | Pendant Creation | Finished Pendant | Sculpture Creation | Finished Sculpture
ABUNDANCE
by Kerry Jo Montoya, © 2014
Wyoming Nephrite Jade
On Balsa Wood Pedestal
5" x 3.5"
This is my sculpture entry into the World Jade Symposium 2014.
When my first child was born there was a new love birthed that I'd never before experienced.  That love was deeper and more powerful than anything previously known.  It wasn't until that point that I fully understood the Father's sacrifice.  This sculpture is my visualization of that moment.
I did not mount this piece as it is intended to be held. She fits perfectly in the hand to create a visual and tactile experience that only Jade can bring.
Price: $375.00 USD.
More Views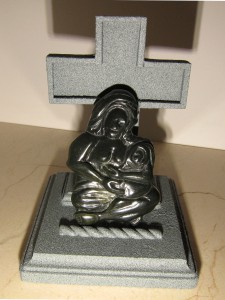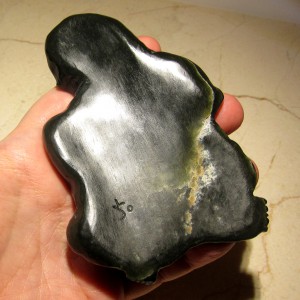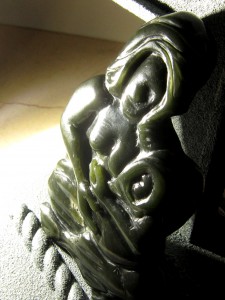 Thanks so much for reading!  You can revisit any of the previous pages from the links below.
Getting Started | The Tools | Pendant Creation | Finished Pendant | Sculpture Creation | Finished Sculpture